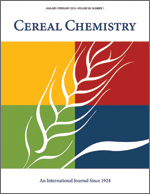 Cereal Chem 68:441-448 | VIEW ARTICLE

Dielectric and Thermal Transition Properties of Chemically Modified Starches During Heating.

L. A. Miller, J. Gordon, and E. A. Davis. Copyright 1991 by the American Association of Cereal Chemists, Inc.

The dielectric properties and swelling characteristics of chemically modified starches with differing degrees of substitution and at different starch-to-water ratios were evaluated before and during heating. Thermal transitions and swelling properties of the starch granules were evaluated by differential scanning calorimetry (DSC) and microscopy, respectively. Dielectric constants (K') of all starches remained constant during heating, and the loss factors (K") and absorptivities (1/Ri) of most starches decreased slightly during heating except during starch thermal transition times as measured by DSC.