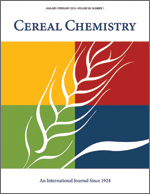 Cereal Chem 68:448-453 | VIEW ARTICLE

Effect of Dietary Cereal Brans on Body Weight and Blood Lipids in a Long-Term Rat Experiment.

R. Mongeau, R. Brassard, S. Malcolm, and B. Shah. Copyright 1991 by the American Association of Cereal Chemists, Inc.

Male and female Sprague-Dawley rats were fed diets containing purified cellulose, oat bran, hard wheat bran, soft wheat bran, corn bran, or rodent lab chow at 4 or 14% total dietary fiber, and their growth and blood lipids were examined after 8 and 29 weeks. Rats from each group were killed during weeks 8 or 29, and tissues were collected. Diets had only a transient effect on body weight gain, and differences were not significant at week 29. Females had higher serum lipid levels than males at week 29. Cholesterol levels were higher in males fed soft rather than hard wheat bran. The oat bran diet (4% fiber) mostly induced lower levels of high-density lipoprotein cholesterol than did the wheat bran diets (14% fiber). In conclusion, cereal brans had no long-term effect on body weight, but each influenced total serum lipid levels and intestinal weights differently.