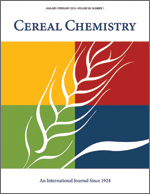 Cereal Chem 68:460-463 | VIEW ARTICLE

Functional Properties of Sorghum-Peanut Composite Flour.

U. Singh and B. Singh. Copyright 1991 by the American Association of Cereal Chemists, Inc.

Raw and heat-processed partially defatted peanut flour, sorghum flour, and their composite flour had different functional properties (water and oil absorption, viscosity, gelation, emulsion capacity, nitrogen solubility index [NSI] and protein dispersibility index). Water and oil absorption increased with heat processing; this effect was more pronounced in peanut than in sorghum flour. Sorghum flour samples attained a viscosity peak of 630 BU when raw and 438 BU when heat-processed. Peanut fortification reduced the viscosity peak of sorghum flour. The NSI and emulsion capacity of sorghum flour improved considerably as a result of fortification. Heat-processing reduced the NSI and emulsion capacity of peanut flour and peanut-fortified sorghum flour. The implication of these results will be realized in designing protein-enriched products based on sorghum flour, especially for sorghum-growing regions of the world.