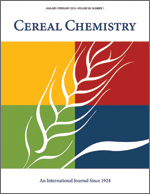 Cereal Chem 68:475-481 | VIEW ARTICLE

A Simple Antibody-Based Test for Dough Strength. II. Genotype and Environmental Effects.

J. H. Skerritt. Copyright 1991 by the American Association of Cereal Chemists, Inc.

The ability of simple antibody-based tests to assess and predict specific aspects of dough quality was evaluated using flours from several sets of wheat lines and varieties. Highest correlations between the binding of glutenin-specific antibodies and dough parameters were observed with dough strength (maximal resistance) and dough mixing (development time and breakdown). Differentiation between stronger and weaker lines was greatest when the sodium dodecyl sulfate (SDS)-insoluble protein fraction was examined. Significant correlations between dough quality parameters and antibody binding were obtained with sets of varieties grown at different levels of nitrogen fertilization at the same site or in a range of environments. The test was equally useful for analyzing a diverse range of unrelated genotypes and for examining progeny from related crosses. Finally, in a set of wheats having similar high molecular weight glutenin subunits, differences in antibody binding were obtained that were highly correlated with differences in dough properties.