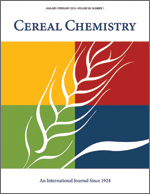 Cereal Chem 68:56-59 | VIEW ARTICLE

Associations Among Quality Attributes of Red and White Soft Wheat Cultivars Across Locations and Crop Years.

C. S. Gaines. Copyright 1991 by the American Association of Cereal Chemists, Inc.

The means and distributions of correlation coefficients among seven principal wheat and flour quality attributes (test weight, break flour yield, straight-grade flour yield, flour protein content, sugar-snap cookie diameter, white layer cake volume, and alkaline water retention capacity) of 53 soft wheat cultivars grown in the eastern United States were compared relative to pericarp color (red or white). Quality attributes of red wheat cultivars usually were adversely affected by protein content. Quality attributes of white wheat cultivars were relatively unaffected by protein content. Among most red wheats, but not among most white wheats, high protein content was correlated with harder kernel texture. Break flour yield was correlated with alkaline water retention capacity for most white wheats, but not for red wheats. Within each color class, individual cultivars varied greatly in correlations among quality tests.