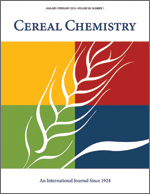 Cereal Chem 68:492-498 | VIEW ARTICLE

The Ultrastructure of Wheat Gluten: Variations Related to Sample Preparation.

T. P. Freeman, D. R. Shelton, J M. Bjerke, and K. Skierkowski. Copyright 1991 by the American Association of Cereal Chemists, Inc.

Fresh and heated gluten samples were prepared for scanning electron microscopy using a variety of preparation techniques. The ultrastructural characteristics of the wheat glutens were directly correlated with preparation procedures. Dehydration of gluten samples can result in major structural artifacts. Hydrated samples were prepared using a "cryopreparation" technique in which just the surface layer was sublimed. This method greatly reduced the gross artifacts of dehydration, and the hydrated samples showed a three- dimensional spongelike structure similar to that observed in fresh gluten examined with light microscopy.