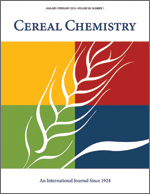 Cereal Chem 68:498-503 | VIEW ARTICLE

A Mechanism of Bread Firming. I. Role of Starch Swelling.

M. L. Martin, K. J. Zeleznak, and R. C. Hoseney. Copyright 1991 by the American Association of Cereal Chemists, Inc.

Bread firming and starch recrystallization are not synonymous, although both occur during bread storage. Bread baked to 95 C in an electric resistance oven did not firm. Factors such as baking time and presence of shortening influenced the water-hydration capacity of the bread crumb. These factors also affected bread firmness during five days of storage. Increased baking time after the temperature reached 95 C in an electric resistance oven increased bread firmness on day 1. A proposed model maintains that bread firming results from cross-links (hydrogen bonds) between the continuous protein matrix and the discontinuous remnants of starch granules.