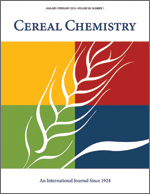 Cereal Chem 68:503-507 | VIEW ARTICLE

A Mechanism of Bread Firming. II. Role of Starch Hydrolyzing Enzymes.

M. L. Martin and R. C. Hoseney. Copyright 1991 by the American Association of Cereal Chemists, Inc.

High levels (100 SKB units per loaf) of bacterial alpha-amylase stopped bread from firming during five days of storage. Supplementing bread with malted barley flour did not decrease the firming rate. Bread supplemented with either fungal or bacterial alpha-amylase contained larger quantities of residual dextrins (degree of polymerization 3-9), whereas bread supplemented with malted barley flour contained only small quantities of those dextrins. beta-Amylase was effective in reducing bread firmness; however, very high levels of supplementation did not completely stop the bread-firming process. Bread supplemented with pullulanase firmed at a faster rate than did the unsupplemented control bread. Dextrins of a particular size are presumably responsible for the antifirming effect. The suggested mechanism of bread firming maintains that cross-links between protein fibrils and starch granule remnants result in bread firming. Dextrins of a particular size interfere with these cross-links (hydrogen bonds) between starch and protein.