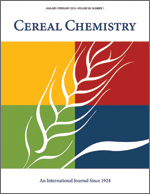 Cereal Chem 68:508-512 | VIEW ARTICLE

Relationships of Selected Flour Constituents to Baking Quality in Soft White Wheat.

M. S. Kaldy, G. I. Rubenthaler, G. R. Kerel iuk, M. A. Berhow, and C. E. Vandercook. Copyright 1991 by the American Association of Cereal Chemists, Inc.

Selected constituents of soft white wheat flour samples from various locations were examined and related to baking quality in order to identify those constituents that are associated with end-use quality. Among the selected constituents, the pentosan fractions were found to be inversely correlated with baking quality. Soluble and enzyme-extractable pentosans were negatively associated with cookie diameter. Cake volume was negatively associated with soluble, enzyme-extractable, and total pentosans.