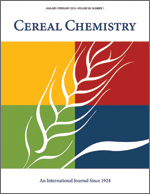 Cereal Chem 68:521-525 | VIEW ARTICLE

Gas Retention in Bread Dough During Baking.

H. He and R. C. Hoseney. Copyright 1991 by the American Association of Cereal Chemists, Inc.

Gas retention in bread dough during baking was studied using pup loaves and an electric resistance oven. The amount of CO2 released during the early stages of baking was small and constant. As the temperature was increased from 55 to 72 C, the rate of CO2 release increased slightly. The major loss in gas-retaining ability of the bread dough appeared to start at 72 C. Doughs made from fractionated and reconstituted flours (gluten, starch, and water-soluble fractions) containing a preheated fraction and two unheated fractions showed that when starch was preheated to above 70 C, the ability of the dough to retain gas was essentially lost. Similarly, doughs containing gluten or water solubles preheated to the same temperature retained gas. Therefore, the presence of gelatinizad starch is apparently necessary for the change in gas retention of dough. A mechanism for changes in the gas-retaining ability of dough is proposed based on the dynamic rheological properties of dough during baking and the microscopic structure of baked bread.