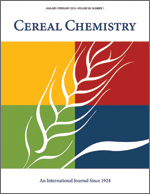 Cereal Chem 68:530-536 | VIEW ARTICLE

Molecular Characterization of Cereal Beta-Glucans. II. Size-Exclusion Chromatography for Comparison of Molecular Weight.

P. J. Wood, J. Weisz, and W. Mahn. Copyright 1991 by the American Association of Cereal Chemists, Inc.

Cereal (1-3),(1-4)-beta-D-glucan (beta-glucan) and pullulan standards were fractionated by size-exclusion chromatography (SEC) using a high-performance liquid chromatography gel column (TSK-60). The beta- glucans were used to calibrate the column after their molecular weight was determined by SEC with low- angle laser-light-scattering detection. Using pH 10 sodium carbonate buffer at 60 C, beta-glucan was extracted from the groats and brans of four cultivars of oats, four barley cultivars, four malts, four wheats, and one rye sample. Some commercial products were also analyzed. The increase in fluorescence intensity of Calcofluor in the presence of beta-glucan was used for peak detection, allowing direct chromatography of the crude extracts. beta-Glucans from the oat cultivars and brans had the highest molecular weights (3.00 x 10(6)), and commerically milled samples were similar (2.70 x 10(6)), followed by barley (2.14 x 10(6)), malts (1.22 x 10(6)), and rye (1.13 x 10(6)). Wheat beta-glucan was not sufficiently solubilized for detection. beta-Glucan in ready-to-eat breakfast cereals ranged in molecular weight from 0.60 to 2.93 x 10(6). The method was used to monitor changes in molecular weight of beta-glucan through the digestive tract of the rat.