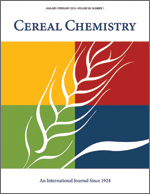 Cereal Chem 68:542-544 | VIEW ARTICLE

Relation of Corn Grain Density to Yields of Dry-Milling Products.

Y. V. Wu and R. R. Bergquist. Copyright 1991 by the American Association of Cereal Chemists, Inc.

Grain density of corn is positively correlated with yields of certain dry-milled fractions. Grain hardness of corn determined by density correlated positively with yields of total grits and with second- plus third-break grits (P less than 0.01), and negatively with yields of degerminator fines, low-fat flour, high-fat flour, and total flour (P less than 0.01). Grain density and percent moisture were found to be negatively correlated.