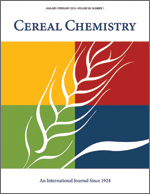 Cereal Chem 68:548-551 | VIEW ARTICLE

Relative Lipidemic Responses in Rats Fed Barley and Oat Meals and Their Fractions.

G. S. Ranhotra, J. A. Gelroth, K. Astroth, and R. S. Bhatty. Copyright 1991 by the American Association of Cereal Chemists, Inc.

Whole meal, bran, and flour from three barley genotypes, which contained graded levels of soluble fiber, were compared with similar commercial fractions of oats for their effect on blood cholesterol (CH), triglycerides, high-density lipoprotein (HDL) CH, and liver CH (test model, using hypercholesterolemic rats). Whole meals of the three barley genotypes contained 3.0, 5.2, or 6.8% soluble fiber; oatmeal contained 3.0%. In meal-fed rats, barley genotypes did not show a favorable blood or liver lipid response compared with oats. However, in bran- and flour-fed rats, the data showed that barley exerted a profound blood and liver CH-lowering effect compared with oat bran or flour (blood triglyceride levels were minimally affected). Blood HDL-CH levels were appreciably elevated in rats fed barley bran or flour compared with oat bran or flour. These results suggested that barley and its major fractions (bran and flour) may evoke different lipidemic responses and that barley bran and flour have a more favorable effect on blood lipids than do oat bran and flour.