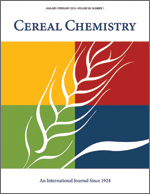 Cereal Chem 68:66-72 | VIEW ARTICLE

Changes in Free Amino Acids During Fermentation of Wheat Doughs Started with Pure Culture of Lactic Acid Bacteria.

C. Collar, A. F. Mascaros, J. A. Prieto, and C. Benedito de Barber. Copyright 1991 by the American Association of Cereal Chemists, Inc.

Dynamics of free amino acid levels during fermentation of wheat bread doughs started with three strains of lactic acid bacteria species---Lactobacillus brevis (B33), Lactobacillus plantarum (B39), and Enterococcus faecium (B40)--- were investigated by reversed-phase high-performance liquid chromatography of the dansyl amino acids. Twenty protein amino acids, gamma-aminobutyric acid, and ornithine were quantified in doughs fermented 0, 4, and 24 hr with lactic acid bacteria. Changes were related to the nutirtional requirements and proteolytic activities developed by these microorganisms. Nutritional requirements of lactobacilli and enterococcus for glycine were evidenced at the beginning of fermentation (0-4 hr), whereas asparagine was consumed later (4-24 hr). In addition, B33 metabolized glutamine and serine first, and aspartic acid, glutamic acid, gamma-aminobutyric acid, tryptophan, and proline later; alanine was assimilated during the entire fermentation (0-24 hr). B39 showed preferential uptake of aspartic and glutamic acids, glutamine, serine, alanine, ornithine, and threonine. Exoproteolytic activity of microorganisms was revealed by the rise in levels of some protein amino acids. During fermentation (0-24 hr), valine, leucine, and lysine gradually increased; however, in all doughs proline content increased only during the first 4 hr. Aspartic acid and histidine were accumulated only in doughs fermented with B40. Methionine and tryptophan accumulated in doughs fermented with B39 and B40. The degree and rate of proteolysis during fermentation were higher for bread doughs containing B40. For the strains of lactic acid bacteria considered, changes in gamma-aminobutyric acid were connected to changes in glutamic acid. Higher amounts of ornithine in doughs fermented long times were presumably due to its release by microorganisms.