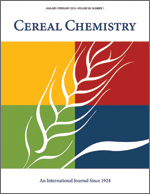 Cereal Chem 68:614-617 | VIEW ARTICLE

Measurement of Endosperm Vitreousness of Corn: A Quantitative Method and Its Application to African Cultivars.

A. Louis-Alexandre, C. Mestres, and J. Faure. Copyright 1991 by the American Association of Cereal Chemists, Inc.

A quantitative method was developed for determining the vitreousness (vitreousness index [VI]) of corn kernels based on a measurement of the vitreous and the total endosperm areas through a view of sectioned kernels. The VI was highly correlated with the true vitreousness determined by dissection. It is proposed that the VI of African corn could be used to construct an endosperm classification table.