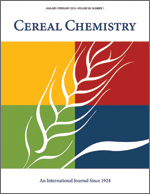 Cereal Chem 68:72-76 | VIEW ARTICLE

Physicochemical and Functional Properties of Rye Nonstarch Polysaccharides. II. Impact of a Fraction Containing Water-Soluble Pentosans and Proteins on Gluten-Starch Loaf Volumes.

J. A. Delcour, S. Vanhamel, and R. C. Hoseney. Copyright 1991 by the American Association of Cereal Chemists, Inc.

Rye water-soluble protein-pentosan fractions improve the volume of gluten-starch loaves. A volume-dosage curve shows that the optimum concentration for such substances is 2-3%. The protein component of the rye material appears to have no effect on the capacity of the complex to enhance loaf volume because deproteinization does not result in a loss of the complex's activity. Ferulic acid residues of the water-soluble pentosans of rye or wheat were not involved in the interactions leading to larger loaf volumes because removal of these moieties or the addition of an excess of ferulic acid in the baking formula did not impair the role of the rye protein-pentosan material in gluten-starch systems. The action of the nonstarch polysaccharides probably is related to an increase in dough viscosity because similar baking results were found when oat beta-glucan, corn bran hemicellulose, or xanthan gums were used.