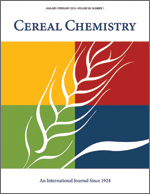 Cereal Chem 68:91-94 | VIEW ARTICLE

Comparative Study of Pollen Proteins of Rice by Isoelectric Focusing and High-Performance Liquid Chromatography.

S.-H. Chen. Copyright 1991 by the American Association of Cereal Chemists, Inc.

Pollen proteins of 22 rice cultivars (Oryza sativa L.) belonging to japonica and indica types were compared. The isoelectric focusing (IEF) band patterns of these two types of rice differed when analyzed in polyacrylamide gels. Different cultivars of the same type showed variations in peak patterns after high- performance liquid chromatography. These results showed that cultivars with a common ancestor have a similar peak pattern. The coefficients calculated on the basis of similarity of peak patterns of chromatograms were significantly related to the extent of match in genetic identity among cultivars. The IEF band pattern showed an independence of sampling time and location of growth. The results indicated that pollen proteins from living plants can be used for systematic and phylogenetic studies of rice cultivars.