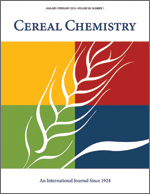 Cereal Chem 68:100-104 | VIEW ARTICLE

Effects of Processing and Usage Level on Performance of Bovine Plasma as an Egg White Substitute in Cakes.

C. C. Lee, L. A. Johnson, J. A. Love, and S. Johnson. Copyright 1991 by the American Association of Cereal Chemists, Inc.

The effects of processing and level used on the performance of bovine plasma replacing egg whites in cakes were investigated. Plasma was evaluated in high-ratio, white layer cakes in different forms (fresh, frozen, and spray-dried) at five levels (50, 75, 90, 100, and 110% of the normal protein level when using egg whites). An enzyme-hydrolyzed 90/10 blend of plasma and beef stock was also evaluated. Cakes made with plasma had slightly less volume, less crowning profile, and darker crust color than cakes made with equivalent amounts of egg white protein. Also, those cakes were softer, less chewy, and less springy but were similar in cohesiveness and gumminess to those made with egg whites. Nearly equivalent performance was achieved by replacing 1.0 parts of egg whites with 1.1 parts of plasma. There were few differences in performance among fresh, frozen, and spray-dried plasma. Hydrolyzed plasma-beef stock blends gave cakes with higher volumes but darker crust colors than plasma.