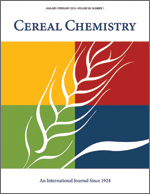 Cereal Chem 68:365-369 | VIEW ARTICLE

Fatty Acid Composition of Selected Buckwheat Species by Fluorometric High-Performance Liquid Chromatography.

W. Tsuzuki, Y. Ogata, K. Akasaka, S. Shibata, and T. Suzuki. Copyright 1991 by the American Association of Cereal Chemists, Inc.

The fatty acid composition of buckwheat seeds, including the tartary species, was analyzed by high- performance liquid chromatography (HPLC) using 9-bromomethylacridine (9-Br-Ma) as a fluorescent labeling reagent for the carboxyl group. In a comparison with the common species, tartary was characterized in relation to the amount of C18:3 fatty acids and those with 20 or more carbons. The values obtained by combining fluorometry and HPLC were compared with those obtained by gas chromatography. The values of both methods were in good agreement, although slight differences were found in the C16:0 and C24:0 fatty acid contents. These results suggest that the combination of fluorometry and HPLC is a highly sensitive, simple procedure for determining the fatty acid composition of buckwheat seeds.