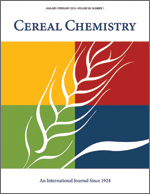 Cereal Chem 69:481-484 | VIEW ARTICLE

Structural Characterization of the Carbohydrate Portion of a Glycopeptide from Wheat Gluten.

J. Chen, D. R. Shelton, B. L. D'Appolonia, and K. Khan. Copyright 1992 by the American Association of Cereal Chemists, Inc.

A carbohydrate-containing fraction, possibly a glycopeptide, was isolated from a pronase digest of wheat gluten and purified by gel filtration and ion-exchange chromatography. The molecular weight of glycopeptide I was estimated to be around 23,000. The methylation analysis of the carbohydrate portion of the glycopeptide indicated that it contained three sugar components-xylose, arabinose, and galactose-and had a highly branched structure. The structure of the carbohydrate portion of this glycopeptide was similar to that of a galactoarabinoxylan type of polysaccharide.