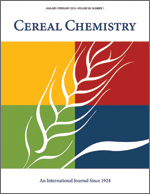 Cereal Chem 69:485-489 | VIEW ARTICLE

Cholesterol-Lowering Effects of Rice Bran and Rice Bran Oil Fractions in Hypercholesterolemic Hamsters.

T. S. Kahlon, R. M. Saunders, R. N. Sayre, F. I. Chow, M. M. Chiu, and A. A. Betschart. Copyright 1992 by the American Association of Cereal Chemists, Inc.

The effects of temperature of extraction and fractionation of rice bran oil were evaluated alone or in combination with defatted rice bran (DFB) to determine the effects on their cholesterol-lowering potential in hypercholesterolemic hamsters. Diets containing full-fat rice bran (FFB), DFB plus rice bran oil (extracted at 4 or 54 C), and 54 C-extracted rice bran oil fractions (gum, wax, and degummed-dewaxed oil) at levels found in FFB were fed to 23-day-old hamsters. All diets contained 10% total dietary fiber, 9% fat, and 3% nitrogen. After 21 days, liver weights and plasma and liver cholesterol and plasma triglycerides were significantly higher in animals fed a diet of 0.3% cholesterol with cellulose (CC) than in animals fed a cholesterol-free cellulose diet. In cholesterol-fed hamsters, significantly lower plasma and liver cholesterol and triglycerides were observed in those fed an FFB diet than in those fed a Cereal Chem diet. A diet consisting of DFB in combination with degummed-dewaxed rice bran oil resulted in significantly lower liver cholesterol levels than did the Cereal Chem diet, whereas DFB alone, rice bran oil extracted at either temperature, or DFB plus gum or wax fractions were not significantly different from the respective corn oil controls. Only FFB lowered both plasma and liver cholesterol in hamsters. The data suggest that some of the cholesterol-lowering properties of FFB are present when DFB is recombined with degummed-dewaxed rice bran oil, but some active components appear to be either lost or are deactivated in the fractionation process.