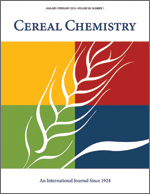 Cereal Chem 69:508-515 | VIEW ARTICLE

Characterization of Low Molecular Weight Glutenin Subunits by Reversed-Phase High- Performance Liquid Chromatography, Sodium Dodecyl Sulfate-Polyacrylamide Gel Electrophoresis, and N-Terminal Amino Acid Sequencing.

E. J.-L. Lew, D. D. Kuzmicky, and D. D. Kasarda. Copyright 1992 by the American Association of Cereal Chemists, Inc.

Ion-exchange-purified glutenin was prepared from the wheat cultivar Yecora Rojo, and reduced-alkylated protein subunits were purified from the mixture by reversed-phase high-performance liquid chromatography. N-terminal amino acid sequencing was performed on the fractions that corresponded to the B-type (mol wt 40,000-50,000) and C-type (mol wt 30,000-40,000) low molecular weight (LMW) glutenin subunits. The main B-type N-terminal sequence (NH2-Ser-His-Ile-Pro-Gly-. . .) lacks cysteine and does not correspond exactly to any known DNA-based sequences for LMW-glutenin subunits. Also present were sequences that showed a close correspondence to those derived from DNA sequences (NH2-Met-Glu- Thr-Ser-Cys-. . .), although the characteristic cysteine was not always present at position 5. C-type N- terminal sequences corresponded mainly to those associated with monomeric alpha-type and gamma-type gliadins. These C-type LMW-glutenin sequences are likely to correspond to mutant forms that have acquired a single additional cysteine residue. They may act to terminate chain extension during formation of glutenin polymers.