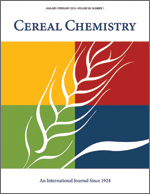 Cereal Chem 69:516-520 | VIEW ARTICLE

Functional Properties of Psyllium in Wheat-Based Products.

Z. Czuchajowska, B. Paszczynska, and Y. Pomeranz. Copyright 1992 by the American Association of Cereal Chemists, Inc.

Psyllium and a psyllium-derived mucilloid (psyberloid) were added at 2, 4, or 8% (replacement) levels to three soft wheat flours and one hard wheat flour. The blends then were evaluated and compared with wheat bran with regard to water-holding capacity, dough mixing time and water absorption, alveograph characteristics, and quality of Chinese steamed bread, Japanese udon noodles, Japanese sponge cake, and regular white pan bread (pup loaves). Psyllium and psyberloid contained 87.6 and 84.1% total dietary fiber (more than 70% in soluble form), 55.4 and 52.9% pentosans, and had water-holding capacities of 49.7 and 35.6 g/g, respectively. Psyllium and psyberloid increased water absorption and mixing time, increased P and W alveograph parameters (at a fixed water level), impaired volume and quality of steamed bread, increased cake volume (at the 2% level), discolored noodles (but did not affect their taste and texture), and increased the volume of pan bread. The higher water content of the pan bread crumb containing psyllium and psyberloid was not accompanied by an increase in water activity and showed improved softness retention (for 72 hr) as measured by bread crumb compressibility and differential scanning calorimetry.