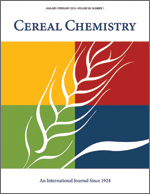 Cereal Chem 69:613-618 | VIEW ARTICLE

Effects of Selected Surfactants on Amylopectin Recrystallization and on Recoverability of Bread Crumb During Storage.

P. A. Rao, A. Nussinovitch, and P. Chinachoti. Copyright 1992 by the American Association of Cereal Chemists, Inc.

Types, levels, and hydrophile-lipophile balance (HLB) values of surfactants were found to have a varying effect on amylopectin recrystalization, loaf volume, cellular structure, and recoverability of bread. All surfactants inhibited starch retrogradation significantly. The retrogradation decreased with concentration but did not change with HLB number. Although 2% sucrose esters of HLB 16 gave the best loaf volume and cellular structure, they did not inhibit amylopectin crystallization after 21 days of room-temperature storage. Retardation of amylopectin crystallization by added surfactants had no effect on bread recoverable work. It was concluded that amylopectin crystallization did not contribute to the ability to collapse and the fracturability of the cells. The loss in recoverability of the bread during aging was thus contributed by changes in the amorphous components.