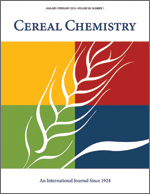 Cereal Chem 69:664-670 | VIEW ARTICLE

Influence of Nitrogen Fertilization on the Potential Bread-Baking Quality of Two Wheat Cultivars Differing in Their Responses to Increasing Nitrogen Supplies.

P. Scheromm, G. Martin, A. Bergoin, and J.-C. Autran. Copyright 1992 by the American Association of Cereal Chemists, Inc.

Two French wheat cultivars were grown in three locations at different levels of nitrogen supply. The two cultivars showed different effects of increased nitrogen levels on baking strength: little variation in baking strength for cv. Camp Remy, strong variation for cv. Fandango. Changes in protein content, glutenin subunits, and aggregates were monitored by nitrogen determination, sodium dodecyl sulfate-polyacrylamide gel electrophoresis, and size-exclusion high-performance liquid chromatography, respectively. Whereas the composition in glutenin subunits remained unchanged with increasing N fertilizer, the total amount of high molecular weight aggregates evolved differently according to cultivar. These results were discussed in connection with the regularity of baking quality expression in wheats.