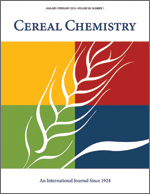 Cereal Chem 69:115-119 | VIEW ARTICLE

Instrumental Measurement of Cookie Hardness. I. Assessment of Methods.

C. S. Gaines, A. Kassuba, and P. L. Finney. Copyright 1992 by the American Association of Cereal Chemists, Inc.

Probing and a three-point break technique for instrumental measurement of cookie hardness were appraised. Both techniques were used to evaluate the hardness of cookies produced by three laboratory formulations: the AACC micromethod and macromethod for sugar-snap cookies and a new commercial formula for wire- cut cookies. The three formulas differ in their ratios of sugar, shortening, and water. Both instrumental and sensory measurements indicated that wire-cut formula cookies were the least hard of the three formulations. The three-point break technique measured both hardness and brittleness, but the probe technique required less product. Probing was used to assess differences among four wheat cultivars and effects of postbake age on cookie hardness. Least significant differences and variances for probing data (as a percentage of the range of hardness observed with the four cultivars) were usually smallest for the wire-cut formula cookies.