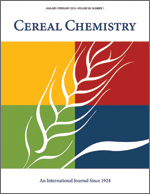 Cereal Chem 69:156-159 | VIEW ARTICLE

Nitrogen Balance in Infants Fed Formulas Containing Amaranth or a Soy-Oats Formula.

F. R. Del Valle, M. Escobedo, A. Sanchez-Marroquin, H. Bourges, M. A. Bock, and P. Biemer. Copyright 1992 by the American Association of Cereal Chemists, Inc.

A nitrogen balance study of 10 infants five to 18 months old compared two infant formulas containing amaranth (Amaranthus cruentus) with a soy-oats formula. Analysis of covariance techniques were used to investigate significant differences between types of formula with respect to nitrogen absorption and retention. Infant weight and nitrogen intake were used as covariates in order to adjust the dependent variables to a constant level of each of these covariates. No significant differences (P less than or equal to 0.05) were found among the three formulas with respect to either nitrogen absorption or nitrogen retention.