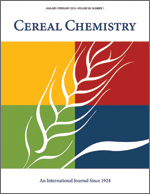 Cereal Chem 69:164-168 | VIEW ARTICLE

Wheat Hardness. I. A Method to Measure Endosperm Tensile Strength Using Tablets Made from Wheat Flour.

R. B. Malouf and R. C. Hoseney. Copyright 1992 by the American Association of Cereal Chemists, Inc.

To obtain a direct measure of tensile strength of reconstituted endosperm from common wheat (Triticum aestivum L.), tablets were made by compressing flour that contained 28% moisture. Those tablets were then dried under controlled relative humidities. Dried tablets were fractured in diametral compression to measure tensile strength. As expected, tablets made from hard wheat flour had greater tensile strength than those made from soft wheat flour. In tablets made from hard or soft wheat flours, contact between starch granules and the surrounding protein phase was visually similar to that of typical hard or soft wheat endosperms. A hard and a soft wheat flour were fractionated into starch, gluten, and water solubles. These fractions were reconstituted into doughs, which were dried and ground. Tablets made from these reconstituted flours had tensile strength similiar to that of tablets made from the parent flours. Factors influencing tablet tensile strength remained active through the processes of storage, milling, fractionation, reconstitution, and tablet making.