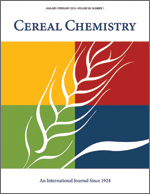 Cereal Chem 69:182-187 | VIEW ARTICLE

Effects of Canola Oil or White Mineral Oil at Dust Suppres sant Levels on the Storage Characteristics of Wheat.

N. D. G. White, D. S. Jayas, J. T. Mills, and B. L. Dronzek. Copyright 1992 by the American Association of Cereal Chemists, Inc.

The storability of wheat, treated with canola oil or white mineral oil at levels used for dust suppression, was studied in the laboratory. Oils were applied at 100, 200, 400, 600, and 1,000 ppm, and treated and untreated wheat samples were stored for up to one year at 2.5, 10, 20, 30, and 40 C. Moisture content of wheat was unaffected by all oil concentrations but was lower at the higher temperatures. Dry grain did not produce moldy or rancid odors after one year, but wheat at 15-18.6% moisture content and 2.5 C produced odor regardless of oil treatment. Fat acidity values (FAV) for the wheat were unaffected by mineral oil after one year, but canola oil initially caused an increase of 6-7% in FAV, from values of 14.5 mg of KOH per 100 g of dry seed, for every 100 ppm of oil. Although germination tended to be lower at higher oil treatment levels, the differences generally were not significant. Microfloral associations with seeds were not clearly affected by any oil treatment. The reproduction of five female and five male Tribolium castaneum or Cryptolestes ferrugineus was unaffected by canola oil at 100-1,000 ppm in eight weeks. Mineral oil had no effect on T. castaneum, but it decreased C. ferrugineus offspring by 50% at 1,000 ppm. Degradation of the insecticides malathion or chlorpyrifos-methyl on wheat with 200 or 600 ppm of mineral oil, stored at varying ambient temperatures (30 to -20 C) or 20 C, was largely unaffected by the oils after one year.