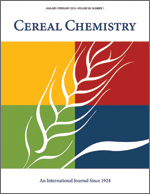 Cereal Chem 69:202-205 | VIEW ARTICLE

Alkali Debranning of Corn to Obtain Corn Bran.

A. H. Mistry and S. R. Eckhoff. Copyright 1992 by the American Association of Cereal Chemists, Inc.

An alkali-debranning process was developed for yellow dent corn to obtain corn bran without disintegrating or splitting the kernel. Sodium hydroxide was found to be the most effective alkali for loosening the pericarp of the kernel and subsequently separating it in a hydroabrasor, leaving the kernel absolutely free of pericarp. The pericarp obtained was dried and expressed as bran yield on a corn dry-solids basis. Three variables significantly affecting bran yield were alkali concentration from 4 to 10%, treatment time from 5 to 12 min, and treatment temperature from 46 to 68 C. A maximum bran yield of 4.68% on dry-corn basis (standard deviation = 0.014%) occurred at 6% alkali concentration, 9-min treatment time, and 57 C. Corn bran contained 92.1% dietary fiber, which constituted 95.5% of the total dietary fiber present in the pericarp. Corn drying temperature and endosperm hardness had no significant effect on the bran yield. The bran obtained by the alkali-debranning process was more purified than the commercial corn brans produced by wet-and-dry-milling processes.