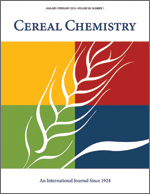 Cereal Chem 69:240-244 | VIEW ARTICLE

Comparison of the Cholesterol-Lowering Properties of Whole Barley, Oat Bran, and Wheat Red Dog in Chicks and Rats.

R. K. Newman, C. F. Klopfenstein, C. W. Newman, N. Guritno, and P. J. Hofer. Copyright 1992 by the American Association of Cereal Chemists, Inc.

Ground meal of two barley cultivars, Waxbar (WXB) and Prowashonupana (PWSNP), was compared with oat bran (OB) and wheat red dog (WRD) for their cholesterol-lowering effects in chicks and rats. Total beta-glucan, total dietary fiber (TDF), and soluble dietary fiber were 16.9, 33.4, and 18.1% for PWSNP; 7.9, 15.0, and 8.3% for WXB; 6.6, 16.6, and 6.9 for OB; and 2.6, 35.0, and 4.1 for WRD. In both chicks and rats, OB and WXB demonstrated a significant (P less than 0.05) lowering effect on total and low- density lipoprotein (LDL) cholesterol levels, but high-density lipoprotein cholesterol was not decreased. Compared with controls, the WRD diet increased serum cholesterol in chicks and had no effect on rats. PWSNP did not lower cholesterol levels in the rat experiment but did in the rat experiment but did in the chick experiment (P less than 0.05). In rats a high fiber level of WXB and OB (10% TDF) was more effective than a lower level in reducing total and LDL cholesterol. Soluble beta-glucan appeared to be the strongest predictor of the serum cholesterol response in both species. Barley grain can offer a high-fiber, cholesterol-lowering alternative to OB. Further research is required to clarify inconsistencies in lipid responses among animals fed different barley cultivars.