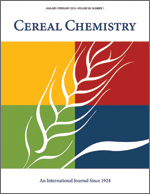 Cereal Chem 69:244-248 | VIEW ARTICLE

Composition, Cooking Time, and Maturation of Azuki (Vigna angularis) and Common Beans (Phaseolus vulgaris).

H. M. Hsieh, Y. Pomeranz, and B. G. Swanson. Copyright 1992 by the American Association of Cereal Chemists, Inc.

Four azuki and two common bean cultivars harvested at three stages of maturity (moisture range of about 15 to 8%) were analyzed for proximate composition, fatty acid composition, and cooking quality. Azuki contained less ash, free lipid, and insoluble and soluble dietary fiber than common beans. Ash, protein, and free lipid content (dry weight basis) did not change consistently during azuki maturation. Cotyledons of azuki and common beans account for almost the entire nutritive value of the whole seed. Insoluble dietary fiber of azuki and common beans is almost entirely derived from the hulls, which make minor contributions to protein and free lipids. The free lipids of azuki were lower in unsaturated fatty acids and higher in saturated fatty acids than the free lipids of common beans. Major changes in the concentrations of caproic and linolenic acids and minor changes in the concentrations of palmitic, stearic, oleic, and linoleic acids in free lipids were observed during azuki maturation. Immature azuki (moisture 13-15%) was higher in saturated fatty acids than mature (10-11%) or overmature (8-9%) azuki. Dry seeds of common beans required longer cooking than azuki. Overmature azuki required longer cooking than immature or mature seeds. Presoaking reduced cooking times less in overmature than in immature or mature azuki. Differences between azuki and common beans in the effect of presoaking on the cooking time of beans of varying maturity may be related to differences in water imbibition characteristics.