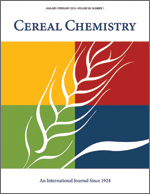 Cereal Chem 69:254-257 | VIEW ARTICLE

Application of a 2-Gram Mixograph to Early Generation Selection for Dough Strength.

P. W. Gras and L. O'Brien. Copyright 1992 by the American Association of Cereal Chemists, Inc.

A direct-drive, 2-g mixograph was used to examine the heritability of mixing characteristics in wheat flours. A good range of variation in mixograph parameters (each with acceptable errors of determination) was found for flours derived from the seed of F2, single-plant selections and in their F3 progeny. The results agreed well over years for the important variables of time to maximum resistance (mixing time) and tolerance to mixing (resistance breakdown), as evidenced by the medium-to-high offspring-parent heritability within and over crosses. These results demonstrate that the 2-g mixograph meets the requirements for use in early generation selection for wheat quality. The value of the instrument was confirmed by simulated selection based on guideline values for two wheat grades and the response to selection as measured using realized heritability estimates.