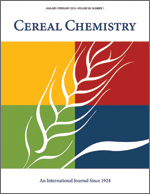 Cereal Chem 69:262-265 | VIEW ARTICLE

Genotypic Effects on Beta-Glucan Content of Oat Lines Grown in Two Consecutive Years.

H. S. Lim, P. J. White, and K. J. Frey. Copyright 1992 by the American Association of Cereal Chemists, Inc.

Oat lines (102 total) grown in 1989 and 1990 were analyzed for beta-glucan by flow injection analysis (FIA) to determine the influence of variety and growing season on beta-glucan contents. The correlation between FIA and the AACC enzymatic method for measuring beta-glucan content was 0.97. The average coefficient of variation for the FIA measurements per sample was 1.2% and the oat lines showed a normal distribution for beta-glucan contents in both years, ranging from 3.0 to 6.5% in 1989 and from 3.9 to 6.4% in 1990. Mean beta-glucan contents for the two years were the same, 5.1%, but oat varieties differed significantly, even when tested via the mean square for year X variety.