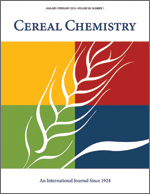 Cereal Chem 69:280-283 | VIEW ARTICLE

Preparation and Properties of Small-Particle Corn Starch.

J. Jane, L. Shen, L. Wang, and C. C. Maningat. Copyright 1992 by the American Association of Cereal Chemists, Inc.

Small-granule starches are useful as fat substitutes and in the manufacture of degradable plastic films. But naturally occurring small-particle starches are expensive and difficult to isolate. We developed methods for breaking down granules of corn starch into small particles. We treated corn starch with acid under various conditions and ball-milled it. The resultant starch particles had diameters similar to those of native small- granule starches such as amaranth (2 micrometers) and rice (5 micrometers). The particle sizes of the starches were determined with a Brinkmann particle size analyzer and an image analyzer. Particle size was correlated with average starch molecular size (degree of polymerization).