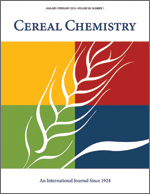 Cereal Chem 69:296-303 | VIEW ARTICLE

Characteristics of Alkali-Extracted Starch Obtained from Corn Flour.

A. H. Mistry and S. R. Eckhoff. Copyright 1992 by the American Association of Cereal Chemists, Inc.

Characteristics of starches obtained from corn flour by an alkali extraction method were investigated and compared with those of commercial corn starch. Of the variables studied, alkali concentration had the most effect, extraction temperature had some effect, and steeping time had no significant effect on the characteristics of the alkali starches. The protein content of most of the alkali starches was significantly different from that of commercial starch, but the sodium content of all alkali starches was higher than that of commercial starch. The alkali starches had lower pasting temperatures and higher viscosity after 15 min holding at 95 C than those of commercial starch as determined by a Brabender amylograph. Starches extracted using lower alkali concentration had lower peak temperature and lower onset temperature of gelatinization than those extracted at higher alkali concentration as determined by differential scanning calorimetry. The X-ray diffraction pattern, birefringence, morphology, and enzymatic hydrolysis characteristics of alkali starches were similar to those of commercial starch. The alkali starches absorbed more moisture than the commercial starch at a given water activity.