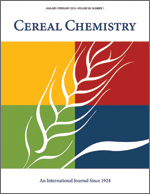 Cereal Chem 69:338-343 | VIEW ARTICLE

Optimizing Texture of Reduced-Calorie Yellow Layer Cakes.

A. M. Frye and C. S. Setser. Copyright 1992 by the American Association of Cereal Chemists, Inc.

Response surface regression models were used to optimize textural attributes of a yellow layer cake with calories reduced approximately 45% from the level in standard cake formulations. Six bulking agents (sorbitol, a hydrogenated starch hydrolysate mixture, lactitol, isomalt, 18-dextrose-equivalent maltodextrin, and polydextrose) were used in combinations to totally or partially replace sucrose. Formulations containing a combination of polydextrose and the hydrogenated starch hydrolysate mixture and a combination of polydextrose and sucrose at two emulsifier levels were optimized. Textural attributes of reduced-calorie, shortening-free cakes were rated between those of a commerical pound cake and a yellow layer cake.