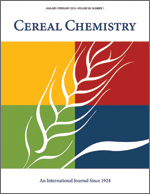 Cereal Chem. 70:179-183 | VIEW ARTICLE

Changes in Sorghum Starch During Parboiling.

R. Young, M. H. Gomez, C. M. McDonough, R. D. Waniska, and L. W. Rooney. Copyright 1993 by the American Association of Cereal Chemists, Inc.

Sorghum grains varying in grain hardness or endosperm texture (soft and intermediate) and starch composition (nonwaxy and waxy) were parboiled. Whole grain (one volume) and water (three volumes) were boiled, soaked for 12 hr, and brought to boil again (boil-soak-boil process) or, alternatively, soaked overnight and boiled for 10 min (soak-boil process). The grain was dried at room temperature and decorticated. Parboiled kernels were darker, denser, smaller, and harder than nonparboiled kernels. Parboiling decreased starch crystallinity and starch dispersion in hot water. Parboiled grain with soft endosperm texture contained less dispersible and soluble starch than parboiled grain with intermediate endosperm texture. The physical characteristics of the waxy cultivar were changed after parboiling; however, starch solubility and crystallinity decreased only slightly. Pasting properties of waxy sorghum were not changed as dramatically by parboiling as were those of nonwaxy cultivars. Apparently, the absence of amylose in waxy starch substantially decreased retrogradation of starch polymers.