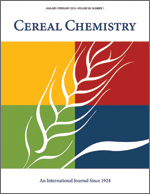 Cereal Chem. 71:1-5 | VIEW ARTICLE


Effect of Nitrogen Fertilizers Differing in Release Characteristics on the Quantity of Storage Proteins in Wheat.

J. Peltonen and A. Virtanen. Copyright 1994 by the American Association of Cereal Chemists, Inc.

Sodium-dodecyl sulfate polyacrylamide-gel electrophoresis and laser-scanning densitometry were used to quantify storage proteins of spring wheat (Triticum aestivum L.) fertilized with various granular NH4NO3- N fertilizers, differing in their mode and rate of N release. Kadett, Ruso, and Reno cultivars were used in field trials. Their flour had the same high molecular weight glutenin subunit composition but differed in gliadin composition. Nitrogen fertilizer application improved breadmaking quality of wheat flour, mainly by increasing the quantity of low molecular weight gliadins. However, omega-, alpha-, and beta-gliadins also increased in Kadett. The most positive effect on flour protein concentration and loaf volume was obtained with an application of granular, dicyandiamide- regulated, slow-release N fertilizer.