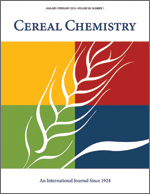 Cereal Chem. 71:6-9 | VIEW ARTICLE


Effects of Various Lipid Fractions of Wheat Flour on Expansion of Sponge Cake.

K. Takeda. Copyright 1994 by the American Association of Cereal Chemists, Inc.

To elucidate the role of lipids in wheat flour during cake baking, five different fractions were separated from free lipids of wheat flour. The fractions were added to defatted flours at a 0.5% level by flour weight. In addition to these five fractions, one extra sample was prepared by adding the same amount of commercial pure linoleic acid to the defatted flours. Fraction 1 (76.5% steryl ester) and fraction 2 (81.1% triglyceride) had no effect on gelatinization properties of the defatted flours or on the expansion of the cakes made from the defatted flours, whereas fraction 4 (58.9% monogalactosyl diglyceride and 28.8% digalactosyl diglyceride) and fraction 5 (74.7% digalactosyl diglyceride) improved cake expansion. Fraction 3 (64.4% diglyceride and 22.0% free fatty acids) and the 99% pure linoleic acid decreased gel hardness of the defatted flours, indicating the suppression of retrogradation of wheat starch by free fatty acids. They also increased cake volume, but this effect was smaller than that of the glycolipids.