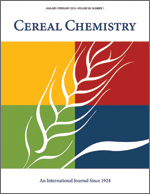 Cereal Chem. 71:10-16 | VIEW ARTICLE


Preprocessing: Effects on Durum Wheat Milling and Spaghetti-Making Quality.

J. E. Dexter, D. G. Martin, G. T. Sadaranganey, J. Michaelides, N. Mathieson, J. J. Tkac, and B. A. Marchylo. Copyright 1994 by the American Association of Cereal Chemists, Inc.

Three Canadian durum wheats were preprocessed according to the patented procedure of Tkac, which involves the removal of bran layers by sequential friction and abrasion passages using modified rice polishers. The semolina-milling potential and the spaghetti-making quality of the preprocessed wheats were compared to those of the corresponding unprocessed wheats. For all wheats at comparable extraction rates, the ash content of semolina from the preprocessed wheats was much lower. The superior refinement of the semolina from preprocessed durum wheat was also evident by a higher Agtron color and reduced speckiness. The preprocessed durum wheats exhibited a significant semolina-milling yield advantage over the corresponding unprocessed wheats when milled to comparable degrees of refinement. Preprocessing had a beneficial effect on spaghetti brightness and brownness. Cooked spaghetti texture was not affected by preprocessing.