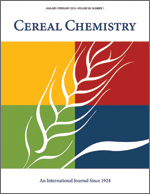 Cereal Chem. 71:21-28 | VIEW ARTICLE


Characterization and Utilization of Durum Wheat for Breadmaking. I. Comparison of Chemical, Rheological, and Baking Properties Between Bread Wheat Flours and Durum Wheat Flours.

M. H. Boyacioglu and B. L. D'Appolonia. Copyright 1994 by the American Association of Cereal Chemists, Inc.

Durum wheat is traditionally used to produce pasta products. Certain countries, however, use durum wheat for breadmaking. More information relevant to the use of durum wheat in breadmaking could increase the utilization and value-added potential of durum wheat in domestic and export markets. One durum flour, three durum first clear flours, one durum second clear flour, one semolina, and three bread wheat flours were studied to determine differences in chemical, rheological, and baking properties of the bread and durum wheat flours. Based on these results, the durum flour rated best for breadmaking potential among the durum wheat flours. Incorporating bread additives and modifying baking procedures could result in bread with more acceptable characteristics.