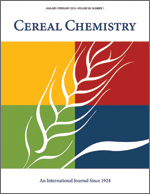 Cereal Chem. 71:428-433 | VIEW ARTICLE


Antioxidant Activities of Zeins from Different Maize Varieties Against Docosahexaenoic Acid Ethyl Ester.

Y. Matsumura, P. P. Andonova, Y. Hayashi, H. Murakami, and T. Mori. Copyright 1994 by the American Association of Cereal Chemists, Inc.

To investigate the antioxidant effects of zeins on highly unsaturated fatty acids, the deterioration of docosahexaenoic acid ethyl ester in a powder model system of zein and oil was determined by gas- chromatographic analysis. The antioxidant activity of laboratory-prepared zeins from three maize varieties (Popcorn, Golden cross bantam, Koshu) and one commercial variety were compared. Although no zein could completely protect docosahexaenoic acid ethyl ester from oxidation, the laboratory-prepared zeins exhibited higher antioxidant activities than did the commercial zein. Of the laboratory-prepared zeins, the zein from Golden cross bantam showed the highest antioxidant activity, and the zein from Popcorn showed the lowest activity. Sodium dodecyl sulfate polyacrylamide gel electrophoresis and reversed-phase high- performance liquid chromatography of zeins were used to determine the reason for differences in antioxidant activity. These analyses revealed that beta- and gamma-zein subunits are present only in the laboratory-prepared zeins and are absent in the commercial zein. There was a correlation between the contents of these zein subunits and the antioxidant activities of zeins. These results suggest that beta- and gamma-zein subunits should contribute to the improvement of the antioxidant activity of zein against docosahexaenoic acid ethyl ester.