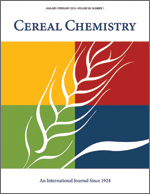 Cereal Chem. 71:469-471 | VIEW ARTICLE


Rapid Method for Estimation of Amylose in Maize Starches.

C. A. Knutson and M. J. Grove. Copyright 1994 by the American Association of Cereal Chemists, Inc.

A rapid solubilization procedure for maize starch, using low- temperature gelatinization in 3M CaCl2 in combination with 15-30 min of sonication in an iodine-dimethyl sulfoxide solution at a temperature of 65- 70 C makes it possible to estimate amylose content of maize samples in less than 1 hr. Results obtained by this technique are equivalent to those obtained by conventional thermal dissolution of starch in iodine- dimethyl sulfoxide, which requires overnight heating to obtain complete solubilization.