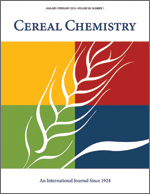 Cereal Chem. 71:483-488 | VIEW ARTICLE


Inhibition of Lipase Activity and Oxidation in Brown Rice Products by Extraction with Ethanol Containing Chelators/Acidulants.

E. T. Champagne and R. J. Hron, Sr. Copyright 1994 by the American Association of Cereal Chemists, Inc.

Liquid ethanol (EtOH) extraction of brown rice stabilized the kernels and flours prepared from them against lipolytic hydrolysis. The inclusion of a chelator/acidulant (citric acid, phosphoric acid, phytic acid, hydrochloric acid) in the extraction solvent yielded products with lower residual lipase activities. The mechanism of action for the inhibition of lipase activity by these chelators/acidulants was attributed to lipase retaining in the kernels and their flours the ionization states and the corresponding activity that were acquired during the acidic EtOH extraction. Citric acid (reported in Champagne and Hron 1993) and phosphoric acid also inhibited oxidation in extracted kernels and their flours.