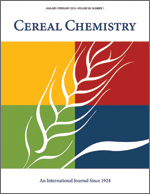 Cereal Chem. 71:488-493 | VIEW ARTICLE


Characterization of Phosphorus in Starch by 31P-Nuclear Magnetic Resonance Spectroscopy.

S.-T. Lim, T. Kasemsuwan, and J.-L. Jane. Copyright 1994 by the American Association of Cereal Chemists, Inc.

Phosphorus in starches from various botanical sources (cereals, roots, tubers, and legumes) was examined by 31P-nuclear magnetic resonance spectroscopy. Normal cereal starches contained phosphorus (0.02- 0.06% starch, dw) mainly in the form of phospholipids, whereas waxy starches had much less phosphorus (less than 0.01%), mainly in the form of starch phosphate monoesters. High-amylose corn starch (70% amylose) contained organic phosphorus (0.02%) as starch phosphate monoesters and phospholipids in a 1:4 ratio. Root and tuber starches were phospholipid-free, and the residual organic phosphorus was exclusively phosphate monoesters. Phosphate monoesters were exceptionally high in potato starch (0.089%). Legume starches contained phosphorus (approximately 0.01%), mainly in the form of starch phosphate monoesters. Rice and lentil pea starches displayed signals absent in the other starches at 1.5-2.5 ppm on 31P-nuclear magnetic resonance spectra. Phosphate monoesters of all the starches were located more on the primary carbon (C-6) than on the secondary carbon (C-3) of the anhydrous glucose unit.