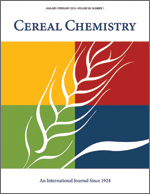 Cereal Chem. 71:501-505 | VIEW ARTICLE


Total Starch Measurement in Cereal Products: Interlaboratory Evaluation of a Rapid Enzymic Test Procedure.

B. V. McCleary, T. S. Gibson, V. Solah, and D. C. Mugford. Copyright 1994 by the American Association of Cereal Chemists, Inc.

The precision of an enzymatic procedure for analysis of total starch in cereal flours and products was determined in a comprehensive interlaboratory study involving 29 laboratories. Test samples represented a range of sample types, including modified and native starches, cereal flours and brans, processed cereal products, animal feeds, and plant material. Results were statistically analyzed according to AOAC guidelines. The procedure was shown to be highly repeatable (relative standard deviation 1.5-7.3%) and reproducible (relative standard deviation 4.1-11.3%). It is now available, in a slightly modified form, as an assay kit. The assay, therefore, provides a convenient alternative to existing procedures for quantitative measurement of starch in cereal products.