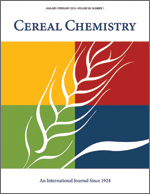 Cereal Chem. 71:513-514 | VIEW ARTICLE


Note: Suitability of Lithium Chloride Solutions for Wheat Gliadin Extraction.

F. R. Huebner. Copyright 1994 by the American Association of Cereal Chemists, Inc.

Previous research suggested that solutions containing lithium chloride (LiCl) can extract gliadins more efficiently than can the traditional solvent, 70% ethanol. Those studies used sodium dodecyl sulfate (SDS) gel electrophoresis to compare extracted fractions. In this study, reversed-phase high-performance liquid chromatography (RP-HPLC) was used to further analyze and quantify such fractions. Results indicate that LiCl primarily extracts albumins, globulins, and omega-gliadins, while most alpha-, beta-, and gamma- gliadins, normally extracted with ethanol, are not solubilized.