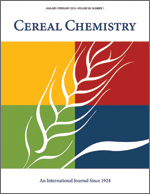 Cereal Chem. 71:91-95 | VIEW ARTICLE


Physicochemical and Sensory Evaluation of Extruded High-Fiber Barley Cereals.

P. T. Berglund, C. E. Fastnaught, and E. T. Holm. Copyright 1994 by the American Association of Cereal Chemists, Inc.

Fourteen blends of four barley cultivars (ground) and rice or wheat flour were extruded into a ready-to-eat cereal using a corotating twin-screw extruder. The raw blends and subsequent cereals were analyzed for soluble and insoluble dietary fiber, beta-glucan, alkaline viscosity, and other physical and chemical properties. Cereals produced from rice and five of the barley-rice blends were evaluated by a consumer sensory panel. Cereals produced by extrusion of 100% barley had limited expansion and high bulk densities. When blended with 50% rice, the bulk densities were reduced by 50%, and the appearance was similar to that of the 100% rice cereal. Extrusion resulted in increased alkaline viscosity and soluble fiber content of most cereals but not of the unprocessed mixes. Sensory panelists rated cereals extruded from four 50:50 barley-rice blends and a 65:35 Wanubet barley-rice blends higher than the 100% rice cereal for crispness and color and rated them similar to the rice cereal for flavor and overall acceptability. The total dietary fiber of the barley cereal ranged from 5.8-9.0%, with 2.0-4.7% soluble fiber. Barley is a suitable material for production of a ready-to-eat high-fiber cereal.