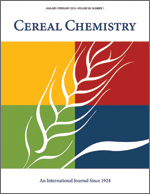 Cereal Chem. 71:139-144 | VIEW ARTICLE


Studies on a Raw-Starch Digesting Enzyme. I. Comparison to Fungal and Bacterial Enzymes and an Emulsifier in White Pan Bread.

T.-T. Valjakka, J. G. Ponte, Jr., and K. Kulp. Copyright 1994 by the American Association of Cereal Chemists, Inc.

The effects of a raw-starch digesting enzyme (RSDE) in white pan bread were compared to those of commercial fungal and bacterial enzymes and an emulsifier (monoglyceride). The bacterial enzyme reduced the firming rate of bread, whereas the fungal enzyme and the RSDE decreased the initial bread firmness but did not affect the rate of firming. The emulsifier decreased both the initial firmness and the rate of bread firming. The RSDE increased bread crust color significantly, which in turn decreased the bread score. Furthermore, with higher levels of RSDE, key-holing (weakening of bread side- walls) occurred occasionally. With the combination of an enzyme and an emulsifier, bread was less firm than bread in which these additives were used separately, but none of the tested enzymes nor the emulsifier had synergistic interaction on bread firmness in white pan bread.